Results of ATRI's CSA: Truck Driver Perspectives Survey Released
The results of the Compliance, Safety, Accountability (CSA): Truck Driver Perspectives survey, conducted by the American Transportation Research Institute (ATRI), were released in August. The purpose of the survey was to evaluate the effects CSA has had on driver employability and carrier operations from drivers' perspectives. The survey also sought to determine driver attitudes toward CSA and understanding of the program.
The entire survey was completed by 204 drivers who were recruited at the 2011 Mid-America Trucking Show in Louisville, Ken. A large motor carrier volunteered an additional 4,351 company drivers to complete only the knowledge portion of the survey.
Of the 204 drivers from the Mid-America Trucking Show, 32.5 percent expressed some concern and 32 percent expressed extreme concern that they would be personally terminated as a result of CSA. While the remaining 35.5 percent were not at all concerned about their job security, the vast majority of the drivers (83.6%) expect CSA to further exacerbate the existing driver shortage.
More than half of the drivers (58.2%) believe that CSA will ultimately raise the caliber of drivers in the industry by terminating the more crash-prone drivers. Interestingly, however, 79.5 percent do not believe that the number of truck crashes will decrease because of CSA. In fact, 68.3 percent of the drivers reported that they have not observed any changes in safety awareness behaviors since the implementation of CSA and only 21.7 percent of the drivers have noticed an increase in these behaviors. About a quarter (24.5%) of the drivers reported that either they had personally rejected operating a certain vehicle they had previously deemed acceptable under SafeStat, or they knew another driver from their company who had.
Based on survey results from all 4,555 respondents, CSA is not well understood by the driving population. The following myths were found to be prevalent among drivers: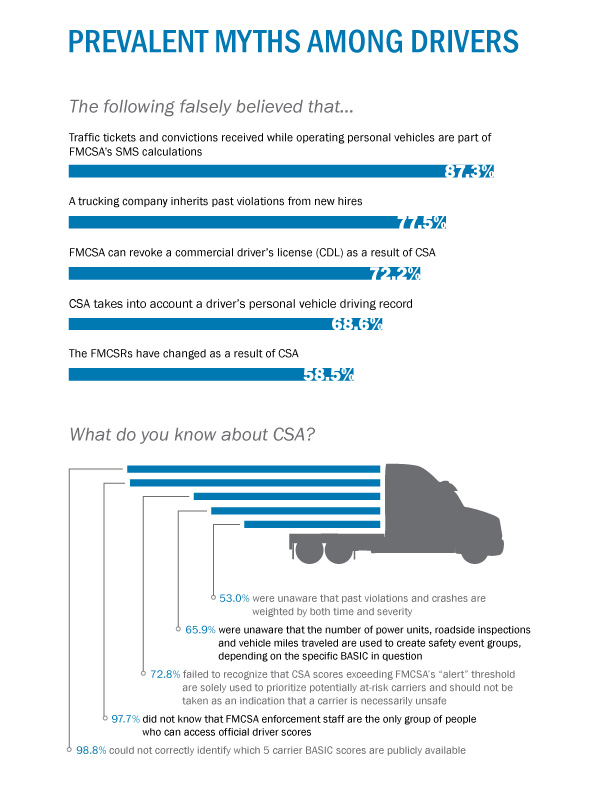 While these areas were greatly misunderstood, the drivers surveyed had a clear understanding of other areas of the program. Nearly all of the drivers (95.3%) realized that every violation, not just out-of-service violations, counts against drivers and carriers. Another 82.6 percent understood that a carrier cannot remove violations from their CSA record by simply firing the responsible driver. More than three-quarters (78.4%) recognized that clean roadside inspections improve driver and carrier CSA scores and 62.2 percent acknowledged that CSA does not take driver body mass index (BMI) into account.
Although some parts of CSA are understood by the driving population, it is clear that more training and education is needed. Of the 204 drivers who responded to the complete survey, 41.4 percent reported that they had not received any training or education related to CSA; 36 percent had employers who had provided one CSA learning session; and only 22.7 percent had received multiple educational sessions from their employer.
The CSA: Truck Driver Perspectives survey determined that CSA is not well understood by drivers. It is critical to correct any misconceptions. To effectively increase the knowledge and understanding of the program by your drivers, your company should provide training and education sessions to inform drivers of the details of CSA. Drivers who attempt to self-educate themselves about the details of CSA may obtain inaccurate information or be influenced by other drivers who do not accurately understand the program.
You may request a copy of the full ATRI report and the CSA: Truck Driver Perspectives survey in its entirety by visiting www.atri-online.org and selecting New ATRI Research Reveals Driver Concerns with CSA.