Prevent Loading Dock Injuries
Loading docks present the potential for severe accidents and have been identified as the location where 25 percent of all industrial accidents occur. Each year, 4,788 accidents are reported as a result of forklifts falling off docks or other surfaces. These accidents typically occur when truck drivers pull away from the dock before the forklift exits the trailer; trailers tip on their nose due to unbalanced weight distribution; or the momentum of the forklift causes the trailer to slowly creep away from the dock, creating a gap.
In order to reduce the number of loading dock accidents, it is imperative that you train all staff and implement a regular maintenance program to keep equipment running properly. Employees should be trained to practice safe loading and unloading procedures, and safely operate lift trucks, dock levelers, vehicle restraints and overhead doors.
Dock workers and drivers must clearly communicate with one another throughout the entire loading and unloading process. Lights, signs and alarms are among the necessary means of informing dock attendants when it is safe to enter the truck and drivers when it is safe to pull the vehicle away from the dock. Too often, after it has been communicated to the driver that the trailer is ready, loaders are unclear on which one will be pulling away or they find another pallet that belongs in the trailer and rush to load it. In either instance, when the driver pulls away, the forklift or worker could be knocked to the ground, resulting in injury or even fatality.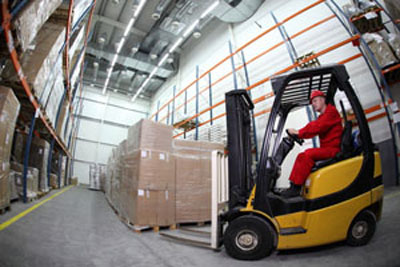 Vehicle restraints should be required to secure trucks to the dock before loading or unloading. Parking brakes may not hold the trailer in place if they are out of adjustment. Therefore, drivers should always chock their trailer wheels, keeping in mind that separation from the dock is still possible, particularly if snow or ice is covering the ground.

You may want to consider equipping your docks with vehicle restraint systems that physically hold the trailers in place by grabbing the rear impact guard. These systems are approved by the Occupational Safety and Health Administration (OSHA) and communicate to drivers and dock attendants that trailers are secured using lights and signs.

When loading or unloading pup trailers, it is important to use trailer nose stands. Because these trailers are shorter, the dolly legs are a center pivot point. As a result, the weight of the load and the forklift is often enough to flip the trailer on its nose. In addition to the damage this can do to the trailer or load, it can cause serious injury if the forklift operator is inside the trailer when it flips.

You must ensure that your fleet meets all of the dockboard standards required by OSHA's 29 CFR, 1910.30 – Other Working Surfaces. This standard requires portable and powered dockboards to be strong enough to carry the load of materials, equipment and workers imposed upon them. Portable dockboards must be secured in position by an anchor or equipped with a device that prevents slipping. In addition, the standard requires powered dockboards to be designed and constructed in accordance with the U.S. Department of Commerce's Commercial Standard CS202-56 – Industrial Lifts and Hinged Loading Ramps. Finally, due to the weight of portable dockboards, OSHA requires handholds to be provided to permit safe handling.

To help prevent accidents at your loading docks, Baldwin & Lyons is offering free copies of our Forklift Operator Safety Alert and Loading Docks Safety Tips handout cards, while supplies last. To order these handout cards, contact the Loss Prevention Resource Library at 317-636-9800 or email your request to thequill@baldwinandlyons.com. The cards are also available in PDF.

Please refer to the Resource Library for video training programs on dock safety.